Our garage was a mess. When I moved in a year ago, we were in the midst of refinishing all of our hardwood floors upstairs. We ended up living in our cramped basement for the first couple months. We simply did not have room for all of my belongings in the house, so... we stuffed it all in the garage. I was contemplating whether or not to show these pictures, because they are quite frightening. However, Vladimir has done such a wonderful job the past week cleaning up that I had to show the before pics... If not, you wouldn't be able to tell how much work he's done! So here it is...
Can you spot Vladimir?
The amount of random stuff that piled up was just completely overwhelming... we didn't know where to start, so we sat down and made a game plan. Take everything out of the garage, and slowly, neatly put it all back in piece by piece. Unfortunately, the day we finally decided to tackle this project was in the end of July, on one of those sweltering 100 degree days... It was MISERABLE!
Our belongings out in the front yard
The shelves along the sides of the garage were completely unorganized, stuff was just piled up. Slowly, we took each item out, organized, and cleaned off the shelves.
It felt so rewarding once the shelves were all cleaned off.
Unfortunately, that day in July was just too hot. We organized as much as we could, but ended up having to just throw the rest of the stuff back in garage. It was a miserable day, neither of us wanted to finish this project. However, the past week, Vladimir and his friend Andrey have been working on the garage every single day after work. They've done a wonderful job, it's cleaner than it has been for quite some time. There's definitely still work to be done, but compared to before, it's like night and day.
Before & After
Before & After
Before & After
Before & After
It's far from where we want it to be, but it's such a relief to be able to see one side of the garage to the other... ::sigh:: Suuuch a relief! Since we never use our garage for parking cars, we are going to make it into Vlad's "man cave." He and his friends are already making big plans, and I've been looking up some inspiration. Here's a few of the amazing "man caves" I've looked up so far.
Love the little bar and all of the storage. Not so much the motorcycle... ;)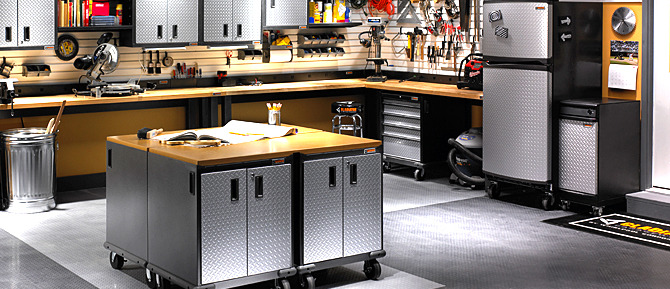 Absolutely love how organized this space is. And the workspace counter & island.
We're planning to move our pool table into his "man cave", love the ceiling light fixture in this space
Now that it's clean and organized, we get to do the fun part... turning the space into a functional man cave.
Do you park your car in the garage, use the space for storage, or entertain in the space? Or all three?